September 9 - 13 is National Suicide Prevention Week
See our Public Awareness Campaign - #Be The 1 To: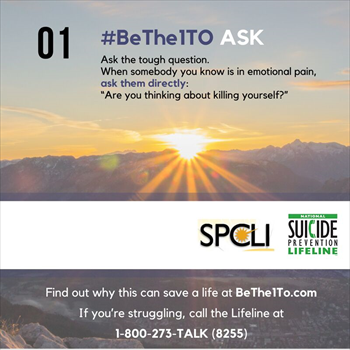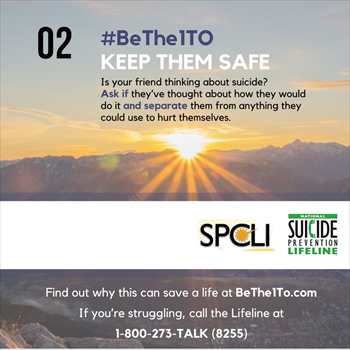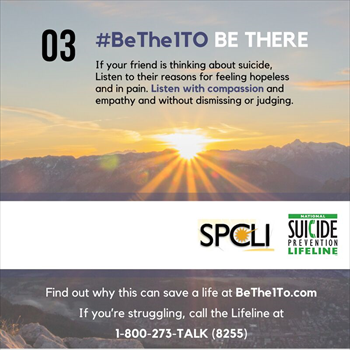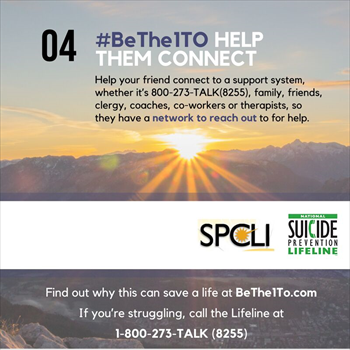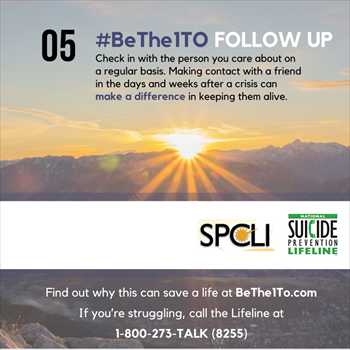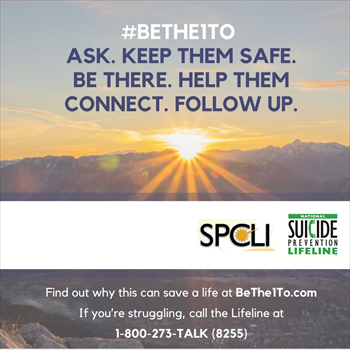 Confidential Suicide Hotlines
Response Crisis Center: (631) 751-7500
Long Island Crisis Center: (516) 679-1111
National Suicide Prevention Lifeline: 1-800-273-TALK (8255)
Warning signs
Some warning signs may help you determine if a loved one is at risk for suicide, especially if the behavior is new, has increased, or seems related to a painful event, loss, or change. If you or someone you know exhibits any of these, seek help by calling the National Suicide Prevention Lifeline or a local crisis hotline:
Talking about wanting to die or to kill themselves
Looking for a way to kill themselves, like searching online or buying a gun
Talking about feeling hopeless or having no reason to live
Talking about feeling trapped or in unbearable pain
Talking about being a burden to others
Increasing the use of alcohol or drugs
Acting anxious or agitated; behaving recklessly
Sleeping too little or too much
Withdrawing or isolating themselves
Showing rage or talking about seeking revenge
Extreme mood swings
*** We thank the National Suicide Prevention Lifeline for this content
Online Resources
American Association of Suicidology
American Foundation for Suicide Prevention 
Befrienders Worldwide 
Center for Disease Control & Prevention 
PsyCom 
Hopeline – Kristin Brooks Hope Center 
Indian Health Service 
International Association for Suicide Prevention 
JED Foundation 
Mental Health America 
National Institute of Mental Health 
National Suicide Prevention Lifeline 
NYS Office of Mental Health 
Response Crisis Center 
Stop a Suicide Today 
Substance Abuse and Mental Health Services Admin 
Suicide Awareness Voices of Education 
Suicide Prevention Action Network 
Suicide Prevention Center of New York 
Suicide Prevention Resource Center 
Suicide Resources - Mental Health Information at Psych Central 
Teen Suicide – Information 
Training Institute for Suicide Assessment & Clinical Interviewing 
Trevor Project – Info for GLBT Youth 
U Lifeline – College Mental Health Resources 
US Army – Suicide Prevention 
US Dept of Veteran Affairs 
World Health Organization 
Youth Suicide Prevention – School Based Guide 
Youth Suicide Prevention Program 
CDC - Bullying and Suicide –National Council for Behavioral Health 
Trans Lifeline –www.translifeline.org 
Zero Suicide

Depression
Postpartum Depression - online.maryville.edu
Reading Resources FOR SURVIVORS
Blue Genes- Christopher Lukas- 2008 (Random House)
Suicide Survivor's Handbook- Expanded Edition- Carlson 2000 (Benline Press)
After Suicide: A Ray of Hope for Those Left Behind- Ross-2002 (Perseus Publishing)
Healing After the Suicide of a Loved One- Smolin & Guinan-1993 (Simon & Schuster)
My Son My Son: A Guide to Healing After Death, Loss or Suicide- Iris Bolton & Curtis Mitchell- 1995 (Bolton Press)
No Time to Say Goodbye: Surviving the Suicide of a Loved One- Carla Fine- 1996 (Doubleday)
The Empty Chair: The Journey of Grief After Suicide- Glover- 2000 (In Sight Books)
An Unquiet Mind: A Memoir of Mood and Madness- Kay Redfield Jamison 1995 (Alfred A. Knopf)
Night Falls Fast: Understanding Suicide- Kay Redfield Jamison 1999 ( Alfred A. Knopf)
Beyond Tears: Living After Losing A Child- Mitchell,Barkin, Ö (St. Martin's Griffon) 2005
Facing the Ultimate Loss: Confronting the Death of a Child- Marx & Wengerhoff (Champion Press) 2003
Aftershock: Help, Hope and Healing in the Wake of Suicide- Cox, Cox, David & Arrington (Broadman & Holman Publ.) 2003
Singing Lessons: A Memoir of Love, Loss, Hope & Healing- Judy Collins
Sanity & Grace: A Journey of Suicide, Survival & Strength- Judy Collins
No One Saw My Pain- Why Teens Kill Themselves- Andrew Slaby & Lili Frank Garfinkle ( W. W. Norton & co) 1995
Lay My Burden Down: Unraveling Suicide and Mental Health Crisis Among African-Americans- Poussaint & Alexander- 2001(Beacon Press)
Survivors of Suicide- Robinson & Hart- 2002 (New Page Books)
Darkness Visible- Styron- 1990 (Random House)
After a Suicide: Young People Speak Up- Kuklin- 1994 (Putnam Publishing)
When the Bough Breaks- Bernstein & Donaghy
A Broken Heart Still Beats- McCracken & Semel
Do They Have a Bad Day in Heaven?- Michelle Linn-Gust
Life After Loss: A Practical Guide to Renewing Your Life After Experiencing a Major Loss- Bob Deits
After Suicide loss: Coping with your Grief, Bob Baugher, PhD., and Jack Jordan,PhD., 2002.
Suicide of a Child, Wrobleski, Centering Corp., 2002.
Touched by Suicide: Hope and Healing After Loss, Myers & Fine, Gotham Books, 2006.
In the Wake of Suicide: Stories of the People Left Behind, Victoria Alexander, Jossey-Bass, 1998.
A Special Scar: The Experience of People Bereaved by Suicide, Alison Werthelmer, Routledge, 2001.
A Force Unfamiliar To Me: A Cautionary Tale, Jane Butler, Hamlet Books, 1998.
Suicide in America, Herbert Hendin, MD, W.W. Norton and Company, 1995.
Books about Depression
Garrett: One Family's Battle with a Child's Depression, Gordon H. Smith, Caroll & Graf, 2006.
Understanding Depression:What We Know and What You Can Do About It- DePaulo 2002 (John Wiley & Sons)
The Noonday Demon: An Atlas of Depression- Solomon- 2001 (Scribner)
Reading Resources FOR CHILDREN dealing with the loss of a parent
Helping Children Cope with the Loss of a Loved One- A Guide for Grown-Ups- Kroen & Espeland
Child Survivors of Suicide: A Guidebook for Those Who Care for Them- Parkin & Dunne-Maxim- 1995
Before Their Time: Adult Children's Experiences of Parental Suicide- Stimming- 1999 (Temple University Press)
Someone I Love Dies By Suicide: A Story for Child Survivors and Those Who Care for Them, Doreen Cammarata, Grief Guidance, Inc., 2000.
After A Suicide: A Workbook for Grieving Kids, Dougy Center
After A Parent's Suicide: Helping Children Heal, Margo Requarth, Healing Hearts Press, 2006.
But I Didn't Say Goodbye: For Parents and Professionals Helping Child Suicide Survivors- Rubel- 2000 (Griefwork Center)
Reading resources FOR MENTAL HEALTH PROFESSIONALS
But I Didn't Say Goodbye: For Parents and Professionals Helping Child Suicide Survivors- Rubel- 2000 (Griefwork Center)
Suicide and Its Aftermath: Understanding and Counseling Survivors- Dunne, McIntosh & Dunne-Maxim- 1987 (W.W. Norton & Co.)
The Practical Art of Suicide Assessment: A Guide for Mental Health Professionals- Shawn Shea
Grief After Suicide: Understanding the Consequences and Caring for Survivors- J.R Jordan & J.L. McIntosh (Eds.)
Safety Planning Intervention: A Brief Intervention to Mitigate Suicide Risk- B. Stanley & G. Brown- in Cognitive and Behavioral Practice (2012)